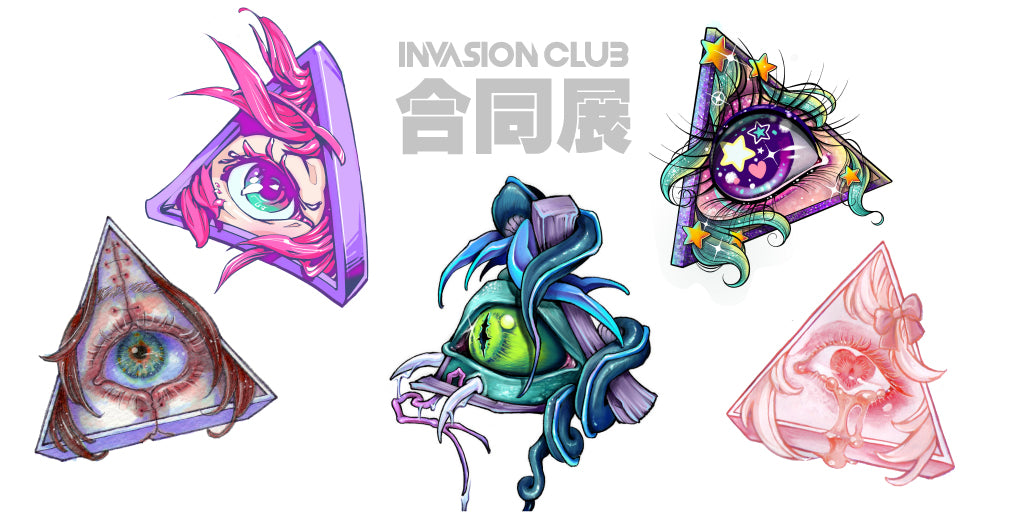 Posted on
---
Invasion Club is proud to announce it's first group art show!
Our five artists will be displaying work both old and new!
How your portrait drawn, or just have a drink!
Select works and original goods will be on sale!
Come party with us at the opening!
Entry is FREE!
The show will only be up for 3 days, don't miss it!
Opening day is May 4th at 12:00 Noon until 9PM
Come early or come late! See you then!
INVASION CLUB 初☆グループアート展
【 INVASION CLUB合同展 】の開催が決定しました!!

場所 ■ INVASION CLUB
大阪市浪速区下寺2-3-9 順和ビル1階
日時 ■ 5月4.5.6日 12時〜19時
5月4日のみ12時〜21時(オープンパーティ)
料金 ■ 入場無料

INVASION CLUB 初のグループアート展
5人のアーティストが、新旧様々な作品を展示。
アーティストの作品.グッズ販売はもちろんのこと、アーティスト在廊中には似顔絵ブースもございます。

5月4日にはオープンパーティを開催(12時〜21時)
DJブース完備.食べ物や飲み物もご用意して皆様の来場お待ちしております!(完全入場無料)

この3日間をお見逃しなく!

INVASION CLUB合同展アーティスト紹介
SPECIAL GUEST ARTIST:

ARTIST:
KUUA
ZAKURO
CHAPI
HORI BENNY
DJ:
LAURA ANNUNAKI (ラウラ・アヌナキ)
KUUA
ZAKURO
CHAPI
HORI BENNY 彫紅